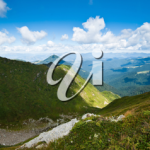 ROAM (Reservation and Outdoor Activity Marketing), the definitive software for those in outdoor adventure industries, had its beginning in 1996 when a group of outdoor adventure companies approached The Software Mill's owner, Greg Miller, to develop a reservation system.
Thanks to ongoing consultation with ROAM users, ROAM has evolved into a fully integrated management, marketing and reporting system capable of handling the never-ending needs of an ever-changing outdoor adventure business.
In 2012, The Software Mill released ROAM 3, which uses cloud technology and gives users 24/7 global access through a browser.